Autumn 2013 | Post Monsoon Climbing Season Kicks Off
After the rainy and snowy monsoon season, mountaineers return to Kathmandu and Himalayas. The decreasing temperatures in inner Asia create a high pressure zone, which forces dry air to flow outward (towards Bay of Bengal), resulting in little or no precipitation during post monsoon period. In next couple of months, mountaineers will climb the big mountains in warm and dry weather that shall last till the arrival of winter.
Makalu
Argentinean-American team of Sebastian Satke, Nani-k Stahringer, Josh Garner, Jacob Schmitz and April Mayhew is attempting Makalu, this season. They arrived in Kathmandu on August 20th and spent a couple of days organizing food/equipment and getting done with routine procedures. On 23rd, they left Kathmandu and started the trek to Makalu. As per latest updated, they reached the Advanced Base Camp, yesterday (September 2nd). In coming days, the team will attempt to establish higher camps and shift the load. They are climbing without supplemental oxygen and altitude porters.
Climber approaching Makalu Summit; Source
Shishapangma
There will be at least two teams on Shishapangma, this fall. The International Team of Eelco Jansen (Netherlands), Frank Lotthrincx (Netherlands) and Frank Felder (Germany) will be flying to Kathmandu, today (September 3rd). They will be climbing the normal route from North side, with Frank Felder attempting a skiing descent depending upon conditions. Eelco will be the leader of the expedition.
Rich Emerson, Dave Etherington and Steve Wilson are currently on the way to the mountain, hoping to climb and make a skiing descent from the summit. They reached Kathmandu on August 28th. After a couple of days of usual chores in Nepalese capital, they started the journey to Tibet on 31st. The team is currently in Nyalam Town, trying to acclimatize with altitude before heading to Shishapangma BC.
Cho Oyu
A couple of teams are also going to attemtp Cho Oyu, this season. Led by Mike Hamill and Peter Anderson, climbers and trekkers of IMG Team left Kathmandu on August 30th, and reached Nyalam on 1st September. After a day of acclimatization hike and rest, they will resume the journey to BC, today.
Members of Summit Climb Cho Oyu Expedition, Dan Mazur, Matt Olsen, Juergen Landmann, James Grieve, Bill Zachary, Matti Sunelll and Jan-Jilles van der Hoeven are still gathering in Kathmandu. They will be crossing the border, in a couple of days.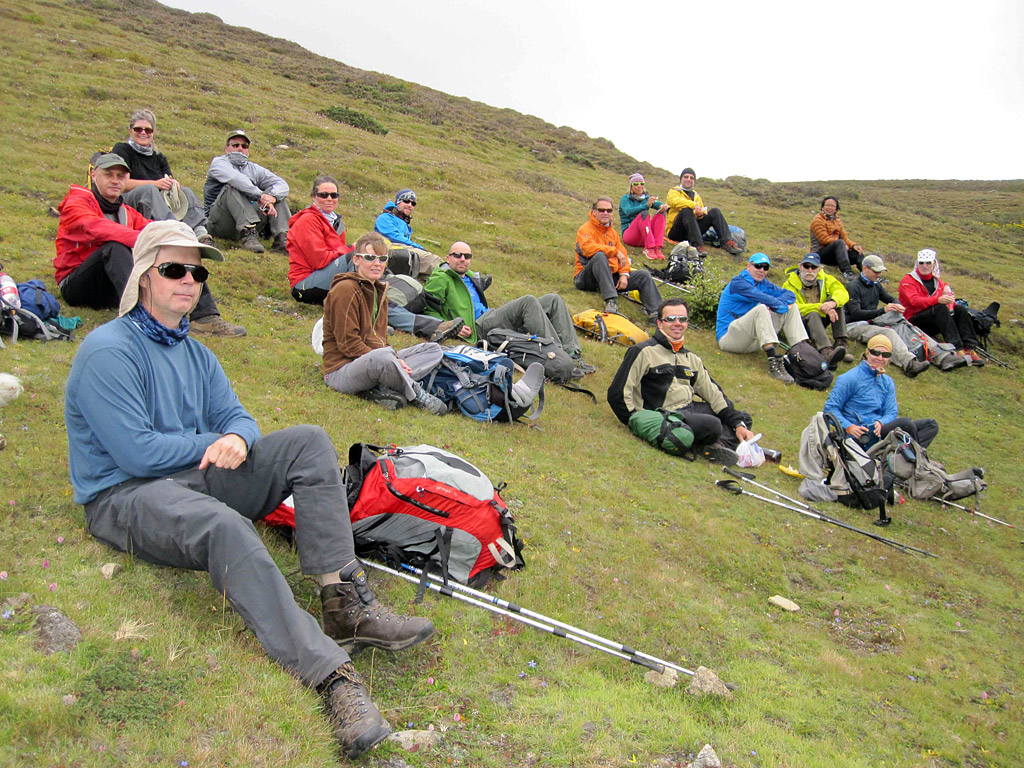 IMG Team acclimatizing in Nyalam; Source
Manaslu
Fall 2012 was a catastrophic season on Manaslu. Around a dozen climbers perished on the mountain as a massive avalanche struck the C3 and C2. Although, there are fewer climber on the mountain this year, but the count is still higher than majority of other peaks.
Renowned Everest blogger, Alan Arnette, returns to Himalayas to climb Manaslu with Phil Crampton (UK/USA), Louis Carstens (South Africa), Damien Francois (Belgium), Kevin Moore (USA), Daniel Newton (Australia), Paul Samuels (UK) and a group of Sherpas. The team arrived in Kathmandu on August 27th and started the six days trek to Sama Goan on 29th. They must be reaching the village, soon.
Another Manaslu team consists of Romanian climbers, Adrian Valean, Vlad Capusan, Vasile Cipcigan and Mike Bowyer. They will be climbing without supplemental oxygen, Sherpa support or fixed Camps. Having been in Kathmandu since August 31st, the team is done with all bureaucratic work and preparations, and will be heading towards the mountain itself, today.
Austrians Hannes Gröbner, Georg Leithner, Sepp Hechenberger and Markus Amon will also be climbing the mountain by fair means – no bottled oxygen or porters. They will attempt a skiing descent.
A British Army Expedition reached Kathmandu on August 27th. They will be climbing Manaslu, this season. Norwegian Teodor Johansen, who become the youngest person to cross Antarctica on foot in 2011-12, is also attempting Manaslu.
Alan Arnette with Ms. Hawley; Source
Frequent updates appear in Tweet Box on right side of this blog, Twitter and Facebook Page.