Autumn 2013 | Lhotse Summit Bid and French Annapurna South, Winter 2013-14
The winter is approaching, and autumn climbing season is over, except on Lhotse where Koreans are making one final attempt to reach the top. Meanwhile, other mountaineers are gearing up for the winter Nanga Parbat.
Lhotse
While almost all other mountains are empty by now, the Korean Lhotse team hasn't given up, yet. On October 30th, they left Base Camp to make first summit push on the mountain, but bad weather forced them to retreat. Currently they are making a second 'light and fast' attempt on the mountain.
As per Explorersweb Korean contributor, Kyu Dam Lee, expedition leader Mr. Hong has left the Base Camp on November 5th to attempt a solo ascent. This may well be the final chance to reach the summit.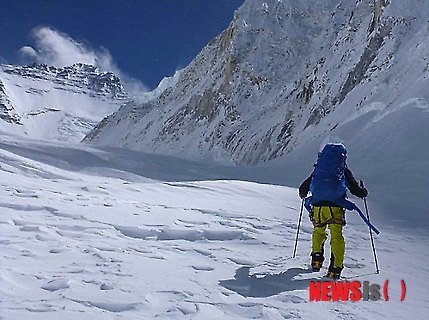 Koreans Lhotse Expedition
Annapurna
Yannick Graziani and Stephane Benoist, the French alpinists, climbed Annapurna via South Face in tough conditions, a couple of weeks ago. After a difficult descent, they were evacuated from Base Camp. Yannick's injuries were minor, but Stephane was seriously frostbitten. After preliminary treatment in Kathmandu, he was shifted to France and is being treated in Sallanches.
"It will probably be amputated foot and toes of the first phalanx of the three outer fingers of the right hand and may be the first phalanx of the middle finger of the left hand.
It is an expensive price but the toll could have been much more dramatic. Other climbers have continued their careers with similar or even more severe amputations", writes Nicolas Feraud [
machine translated
].
Meanwhile, Lindsay Griffin has shared further details of Yannick and Stephane's ascent in an article at BMC. Contrary to the characteristic ease and perfection of Ueli Steck, the story of French ascent is more melodramatic. Read the full story
here
.
South face of Annapurna showing the Benoist-Graziani ascent line.(By Lindsay Griffin)
Winter 2013/14
As the autumn climbing concludes, the focus shifts to upcoming expeditions of winter climbing in Pakistan. Nanga Parbat and K2 are the only unclimbed peaks in winter. K2 will never be the favorite for obvious reasons, although 16 teams have failed on Nanga Parbat, too. Nonetheless, at least a couple of teams are determined to attempt the latter, this winter.
Last winter, Tomasz Mackiewicz became only third climber to go above 7000m on Nanga Parbat in winter. It was his and Marek Klonowski's third attempt on the mountain (first on Rupal face). The Polish duo will be returning to Rupal face, this winter. Jacek Teler (part of winter 2002/03 K2 Expedition and attempted NP in winter 2008/09) and Pawel Dunaj are also expected to be their team mates.
Simone Moro, with three first-winter-ascents, also confirms his plan of return to Nanga Parbat. Unlike previous attempt, he will not be on Diamir side. The Italian climber will be sharing further details in a few days.
Lunag Ri
Chad Kellogg and David Gottlieb's expedition to unclimbed Lunag-I concluded without success. In first attempt, a huge piece of rock scrubbed Chad Kellogg's shoulder and forced them to retreat. Second attempt proved to be more destructive. After ascending around 1000m in one night, the summit was in sight but David's six fingers showed the signs of frostbite. The team returned to BC and started the trek on November 6th. David will be flying from Lukla to receive necessary treatment in Kathmandu and USA.
Frostbitten fingers of David; Source
Saipal
It appears that bad weather denied the French attempt on Saipal. The team is on the way back, now.
Frequent updates appear in Tweet Box on right side of this blog, Twitter and Facebook Page.