Winter 2014 | Marek Klonowski Leaves Nanga Parbat
The bad weather spell on Nanga Parbat is over. "
Today is the first good weather day. Wind on the ridge and spontaneous avalanches will clean our route
", Simone Moro wrote at 1000hrs local time on January 11th. But the important development over the past couple of days is the departure of Marek Klonowski from Nanga Parbat.
Polish 'Justice of All' Expedition
Marek Klonowski has abandoned his fourth winter Nanga Parbat attempt because of paternal reasons. It's reported (by The North Face team and also confirmed by Jacek Teler) that Marek's partner gave early birth to a baby and he immediately decided to return home. Family responsibilities overtake the dream of climbing Nanga Parbat.
The Polish Team will now consist of Tomek Mackiewicz, Jacek Teler and Paweł Dunaj joined by Michał Dzikowski and Michał Obrycki as support team. In previous years, Marek and Tomek attempted Nanga Parbat twice from Diamir side and once via Rupal Face.
Marek during winter Nanga Parbat 2010-11; Source
The North Face Team
Despite bad weather during past few days, Simone Moro and David Gottler went to ABC on Jan 10th to keep themselves in shape.
Weather
Weather remained snowy and cloudy on Nanga Parbat in past few days. It's the time for the mountain to release fresh snow. The teams are, apparently, still at Base Camp, waiting for avalanche frequency to decrease and conditions to improve. Emilio Previtali says, "Amazing day, zero clouds, wind up, the channels are pouring the snow from yesterday."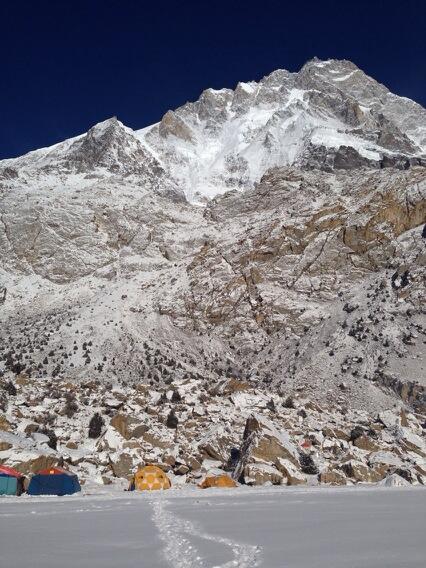 Nanga Parbat, today; Photo: Simone Moro
"Justice for All" expedition consisted of Marek Klonowski and Tomek Mackiewicz (duo's fourth consecutive winter Nanga Parbat expedition), Jacek Teler (his second attempt) and Pawel Dunaj. Poles are the uncrowned kings of winter altitude climbing, and the team feels proud of it. 80% of expedition funds have come of crowd-funding. The team is climbing Schell Route on Rupal face. Last year, Tomek Mackiewicz reached 7400m on this route. Marek has to abandon the expedition due to family reasons.
German Ralf Dujmovits was the first team to leave Nanga Parbat, this winter. The German climber decided to quit on January 3rd, due to high avalanche risk. As per him, the two ice towers immediately above 6000m on Messner route were in dangerous condition and prone to serac fall activity. Ralf's entire route below ice towers, including C1 at 5500m, was exposed to avalanches caused by serac fall.
The man behind the rebirth of successful winter climbing, Simone Moro, was first non-Polish to achieve first winter ascent of an 8000m peak (Shishapangma in 2005). Later, from success on Makalu in 2009 and GII in 2011, to failed Nanga Parbat attempt in 2012, Kazakh (now Russian) Denis Urubko has been the regular partner of Moro, but the former was reluctant to come to Nanga Parbat because of security reasons.
However, Simone is joined by dynamic young man David Gottler - with 4 eight-thousanders and who was one of the few men who scaled Makalu last spring - and versatile adventurer Emilio Previtali. Although, Emilio's primary job is documenting, reporting and sharing the story of winter Nanga Parbat but "I know of no climber who goes on a mountain with no desire to go on top." - says the Italian. The North Face team is on Rupal side to climb Schell route.
Italian climber Daniele Nardi will reach Diamir BC on January 28th to attempt Mummery Rib, once again. Last year, he and French lady Elisabeth Revol climbed the route till 6400m.
Frequent updates appear in Tweet Box on right side of this weblog, on Twitter and at Facebook.