Winter 2014 | Ralf Dujmovits Quits, Poles on the Rise
The German mountaineer Ralf Dujmovits has decided to quit Nanga Parbat expedition, due to high avalanche risk. He says that the two ice towers immediately above 6000m are in dangerous condition and prone to serac fall activity. Ralf's entire route below ice towers, including C1 at 5500m, are entirely exposed to avalanches caused by serac fall.
"
I had expected a certain level of risks climbing up the Diamir side in winter, especially on the Messner Route. But not these incalculable risks that I 'm not willing to take. The serious accident on K 2 in 2008, when a part of the large serac above the bottleneck broke, was one of many examples of accidents by ice avalanches that could have been prevented.
" He wrote in his conclusive report.
Circles showing suspected ice towers, whereas X is C1 (5500m); Source
Ralf Dujmovits spent several days on Aconcagua as acclimatization for Nanga Parbat. His plan was to launch a fast and light summit push on Diamir face immediately after reaching the BC, but Nanga Parbat winter isn't known for such convenience. After reaching Base Camp on December 24th, he investigated the mountain face and witnessed that his preferred route, Kinshofer, is full of blue ice. Ralf decided to go for Messner route. On 30th, he and Darek Zaluski reached 5500m before turning back to BC due to bad weather.
On January 1st, weather cleared and they were able to see the whole Diamir side for the first time. But the good weather didn't bring the happy news; rather the concerns about ice towers/seracs section became further worrisome. Apart from serac fall risk, Ralf has also been thinking about loss of acclimatization since nights spent on Aconcagua summits and no possible summit window till Jan 8th-9th. At the end, yesterday (Jan 2nd) he decided to abandon the climb, "after a careful weighing up of the risks – we had climbed up the glacier in deep snow for two hours again – I have decided to abandon the expedition." He further adds that, "I'm leaving with nostalgia. It was a hard but also wild and beautiful adventure."
This is 18th unsuccessful winter expedition to Nanga Parbat, overall.
Ralf's decision came after detailed consideration; Source
On Rupal Side
Meanwhile, with the improvement in weather, action resumes on Schell route. January 2nd was "
nice cold day. We had -20 at 8:00 am and much more during the night. Nanga Parbat is so big above us
." Tweeted Simone Moro.
From GPS data, it appears that, the Polish team is currently on the rise.
Jacek Teler messaged yesterday, "
New Year brought a weather-improvement; moving up on 3rd for 5-7 days, thinking of fixing to C3. Simone's Group still holds
." [Machine translated]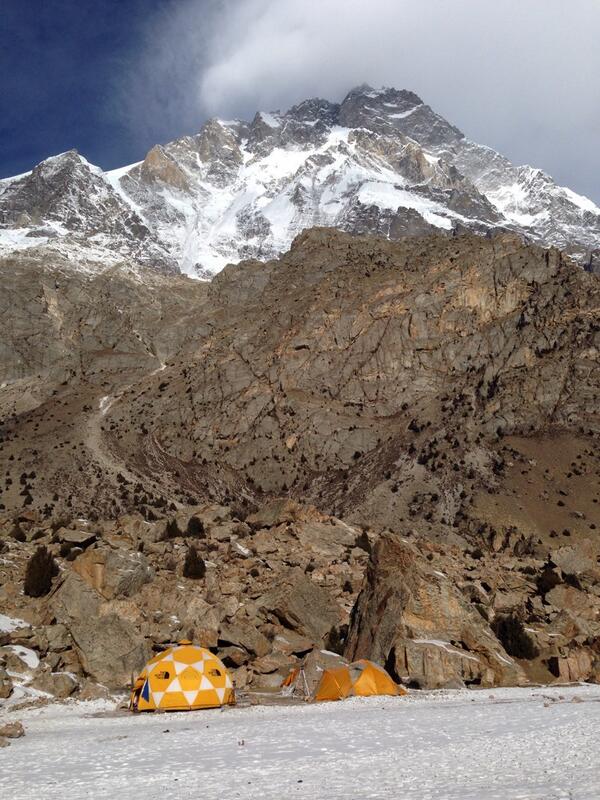 BC of The North Face team; Source
Solo on Diamir: Edition-II
Daniele Nardi will be reaching Diamir BC during last week of January. He will acclimatize on nearby peaks, before alpine style attempt on Mummery Rib. Like 2013, Pakistani mountain guide Muhammad Ali will accompany him to BC.
Frequent updates appear in Tweet Box on right side of this weblog, on Twitter and at Facebook.