Spring 2014 | Difficult Conditions | Summit Attempts Continue on Makalu, Kangchenjunga, Cho Oyu and Shishapangma
The May 16th -18th summit window, which was forecasted for almost all 8000ers, is proving to be less favorable than anticipated. High winds haven't receded yet. But the climbers are waiting in high camps in anticipation of summit attempts on Makalu, Cho Oyu and Shishapangma, tonight and on Kangchenjunga tomorrow night.
Everest
Except a brief respite in wind on May 17/18th, Everest summit winds are forecasted to remain high till the end of next week. The rope fixing team and all climbers are in BC, waiting for weather improvement.
A couple of days ago, Peter Hamor and Horia Colibasanu made an unsuccessful attempt to climb normal route without oxygen. The duo reached North Col on May 14th, but on 15th strong wind forced them to turn back from around 7300m. Today, they descended from ABC to BC.
Kangchenjunga
Three members of team on Kangchenjunga's North face, Alex Txikon, Adam Bielecki and Dmitri Sinev, were in C2 (7100m), last night. Their plan for today was to go up and establish C3 (7500m). As of now it's not confirmed whether they were successful so or not.
Meanwhile, Denis Urubko and Artem Braun, who left BC yesterday (15th), are in C2 now. A few days back, Denis wrote that "
Everybody (except of me) is aiming the summit. I dream about good acclimatization only. So, let's see.
"
[Update:

Alex Txikon wrote that technical difficulties combined with strong wind slowed their progress, and didn't allow them to reach the top of rock tower at 7500. After turning back from the base of rock tower at 7400m, the three climbers are in C3.




The team will now try to reach 7900m tomorrow and summit on 18th.

]
On South side of Kangchenjunga, the strong wind didn't let any team to climb further, today. Samuli Mansikka tweeted from C2 this afternoon, "
Windy on Kangchenjunga and looks like no one's moving up today. So, looking at summits on 18th.
" Carlos Soria and all other teams are also in C2 since yesterday.
If conditions improve and teams resume the climb to C3 tomorrow, the summit push will be challenging for everyone. After reaching C3 tomorrow afternoon, they will have merely a couple of hours to rest, before starting the summit push at 7PM. Early departure on summit night is planned to avoid late summits and unfortunate situations like last year.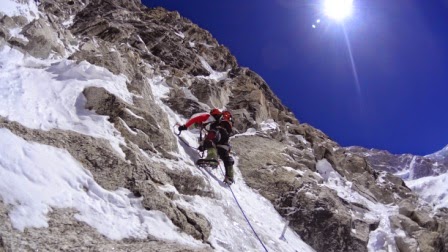 Kangchenjunga North Face team
Makalu
Bad weather and cancellation of summit pushes have been reported from Makalu. Billi Bierling tweeted this afternoon, "
First summit attempt on makalu abandoned. Almost all climbers came back from C2 this morning. Too windy. Some teams still at makalu la but high winds forecast. Himex team is hoping for another weather window. It's a windy mountain!
"
Makalu summit push was divided in two groups. The first group of around 20 climbers was in C3 (7450m), last night. They had a rough night up there, and majority of the members couldn't proceed to C4, today.
Arjun Vajpai, the Indian Climber, wrote on Facebook a while ago, "
@7800mt reached Camp4 ! The winds are a little better now. We (Ashish Mane, Debashish, Anand Mali, and Me) all from India have reached camp4 safely, along with our Sherpas. The other members of Group A have decided to stay back at camp3 ... as of now we plan to leave at 9pm and summit by tomorrow morning 10am.
"
Also, from latest update it appears that Fred Roux and Mike Horn have reached 7500m and will be launching the summit push, soon.
French climber Philippe Gatta was part of group A and is still in C3. "
Heavy winds blew through the night and destroyed 5 tents. All climbers ok. Still aiming for summit but with one day delay
."
Finally, from Billi's tweet and updates from other climbers, it appears that group B is back at BC, now.
Cho Oyu
The first group of climbers, who reached C3 (7580m) yesterday and were supposed to leave for the top this morning, couldn't launch the summit push due to strong wind. Majority of these climbers have descended to C1 now, but Australian Andrea Rigotti and Dawa Sherpa are waiting in C3. Andrea Rigotti hopes that German and Russian teams would reach C3, today.
Meanwhile, Benegas Brothers Team, who was in C1 yesterday, has also plans of going for the summit on May 17th (tomorrow).
Moonrise/Sunset on Cho Oyu; Source
Shishapangma
Three Germans Dominik Mueller, Martina and Alois, and supposedly one Mexican are in C3 (7000m) on Shishapangma. As per Dominik, the team's plan is to launch the summit bid at 1200AM, tonight. Aforementioned climbers are the only four left on the mountain, now. So far, there have been eight Shishapangma summits this season.