Summer 2014 Kickoff | K2's 60th Anniversary, Nanga Parbat in Solitude and 4 Gasherbrum Peaks
Summer climbing season is about to begin. The proceedings of this summer are largely affected by the events of
last year
. Summer 2013 was a catastrophic season with 22 fatalities in Karakoram and Western Himalaya; half of them caused by
terrorists
' attack on Nanga Parbat BC. Following the incident, all Diamir side expeditions were cancelled, several climbers changed their plans and majority of trekking groups returned home from Islamabad.
The shadows of terrorism still haunt the mountaineering and tourism scene in Pakistan. This summer, the number of climbing permit requests is half compared to last year. Official sources acknowledge that "foreign mountaineers are staying away from Pakistan".
Nonetheless, multiple expeditions to Karakoram prove that situation is not entirely bleak. Year 2014 marks the 60th anniversary of K2's first ascent. Many events, including special climbing expeditions to K2, are planned to celebrate the success of Italian 1954 Expedition. Also, several climbers are hoping to climb Broad Peak and Gasherbrums.
Nanga Parbat Diamir Base Camp; Photo: Tunc Findik
K2
Last year, K2 denied all efforts to go beyond C3. The worse snow conditions didn't allow any summit attempt and unfortunately Denali and Marty Schmidt died when an avalanche struck them in C3 at night.
It appears that, this will be a busier season on the mountain. There will be a
Polish
team 'practicing' for first winter ascent. There will be
Pakistani-Italian
joint venture to reiterate the success of 1954 expedition. Canadian
Al
Hancock and British
Adrian
Hayes will be hoping for better conditions and a happier season. Giuseppe
Pompili
, the Italian climber, also wants to fulfill his dream of climbing the Mountaineer's Mountain.
Radek Jaros is part of
Czech
Republic's K2 Expedition. Alexandros Aravidis and Panagiotis Athanasiadis from Greece will also be on the mountain. Turkish Muharram Aydin
Irmak
cycled to Islamabad in first week of June. But that was first part of his journey; he will now attempt to climb K2.
Alan
Arnette, American climber and a well-known Everest blogger, is working hard for his K2 expedition. Kiwi/Australian Chris Jensen
Burke
would like to continue her row of successful climbs. She summited Makalu last month and intends to climb Broad Peak and K2 this season.
Last but not the least, a Nepalese
Sherpani
(all-female) team will also be heading to K2. It's pertinent to mention that some of the aforementioned teams will be accompanied by Pakistani High Altitude Porters and Nepalese Sherpa climbers.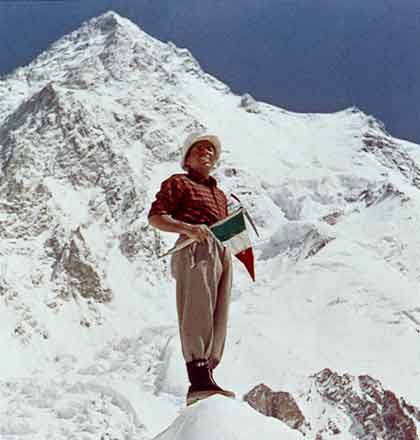 Achille Compagnoni holding Italy flag At K2 Base Camp 1954; K2: Conquista Italiana: Tra Storia E Memoria
Nanga Parbat
Nanga Parbat will remain secluded this season. After last year's massacre,
no team
is ready to accept the security risks involved.
On June 22nd, 2013, more than a dozen terrorists stormed Nanga Parbat's Diamir BC and murdered eleven climbers. The incident led to the cancellation of all expeditions on Diamir side. However, a Romanian team continued its ascent on Rupal side and reached the summit. Later, four teams attempted the mountain in harsh winter conditions.
Broad Peak
On Broad Peak, there will also be multiple teams. David Lama, Peter Ortner and Hansjorg Auer will be climbing the mountain for 'acclimatization'. Their main objective is first ascent of
Masherbrum Northeast Face
; the challenging wall which a Russian team termed as Jannu North face's twin.
Spaniard
Oscar Cadiach
is also expected to attempt Broad Peak, the only remaining peak to complete 14x8000ers quest. It appears that there will be Spanish, Czech, German/Austrian, Japanese, Mexican and Chinese teams on the mountain. Australian Gavin Vickers and Romanian Alex Gavan are also attempting the 12th highest mountain.
After Broad Peak winter 2012/13 tragedy and loss of Artur Hajzer, the
Polish Winter Himalaism
is back. Apart from aforementioned K2 expedition, another team will be attempting Broad Peak Middle (8016 m); the challenging sub-peak of Broad Peak. The unification expedition will be led by Jerzy Natkański.
Northeast face of Masherbrum; Source
Gasherbrums
Apparently, the two eight-thousander Gasherbrum peaks, GI and GII, will be less busy this season. Apart from an international expedition led by Turkish
Tunc Findik
, only three other teams (from Russia, Japan and Korea) have applied for permits, so far.
However, another Korean team will be attempting the unclimbed
Gasherbrum V
(7147m). Lastly, American-Slovenian team, Kyle Dempster, Hayden Kennedy and Urban Novak, will be on 'Shinning Wall' of
G IV
(7925m). It appears that they will climb in Trango Valley and acclimatize on GII before attempting G IV.
You may follow frequent updates on Twitter and Facebook. Tweets also appear in sidebar of this weblog.