Winter 2014 | Nanga Parbat Teams Progressing on Schell Route
With initial round of acclimatization already completed, the action on Nanga Parbat is getting serious as climbing becomes further challenging. Meteorological conditions are favorable right now, and are forecasted not to deteriorate much for a few more days. All climbers are currently on the mountain, trying to establish the route and set up higher camps for summit push. Despite the sudden exit of Marek Klonowski, Poles are united and hopeful. Simone Moro and David Gottler are well synchronized as climbing partners; and the two teams enjoy a friendly and collaborative relationship.
Trying to fly a drone, that Marek gave to Simone Moro; Source
The New Formation of Justice for All Team
The Polish team consisted of six members (Michal Obrycki and Michal Dzikowski as supporting members) when they reached BC, but are only four now. Michal Dzikowski, who helped in hauling the loads up the mountain, has started the return journey. Unlike Marek's unexpected exit, Dzikowski's departure was already scheduled, "
I have to leave too - my work holidays are nearly over and I have to be back in Ireland in the next week or so.
"
Michal Obrycki will remain with Tomek Mackiewicz, Pawel Dunaj and Jacek Teler.
Continuing the Climb
After few days of snow and clouds, January 11th was sunny and bright as fresh snow came down the mountain in the form of avalanches. Nonetheless, Tomek Mackiewicz left BC, right away. His plan was to fix route, establish C2 and intimate other members for further working. Due to radio set battery problem, he remained out of contact until yesterday.
It appears that Tomek couldn't go beyond ABC on first day. He reached C1 On 12th and bivouacked at 5400m on 13th. Simone and David met him at around 5600m, this noon.
Michal Obrycki and Pawel Dunaj ascended to C1, yesterday and from SPOT data it appears that they are in C-1A right now. Jacek Teler will also be going up soon. "
We will try to take maximum advantage of the next 2 days (weather?)
", he texted this evening.
Pawel and Michal in C1-A; Source
Moro and Gottler on a Mission
"
David and Simone were different yesterday; two real climbing companions
"… "
In their gestures, in the organization and preparation before departure not only you could see the individual experience, revealed by elementary actions performed thousands of times that reveal the beauty and naturalness of their being mountaineers. Gestures refined and repeated thousands of times in the time of their lives by mountaineer. Yesterday you could see the Simone and David thinking together. They coordinate. They look and understand each other with a glance, a gesture, without opening his mouth
." Emilio Previtali noticed as Simone Moro and David Gottler left the Base Camp.
After improvement in weather and delay for conditions to settle, the Italian-German duo left their Base Camp, yesterday. They spent the night in C1 (at 5100m) and went up, today. They met Tomek at around 5600m in the noon and later reached 5800m, the point till where the route was established by Polish team. Simone and David broke the trail for further 100m and deposited some equipment at 5900m. They are back in C1, now.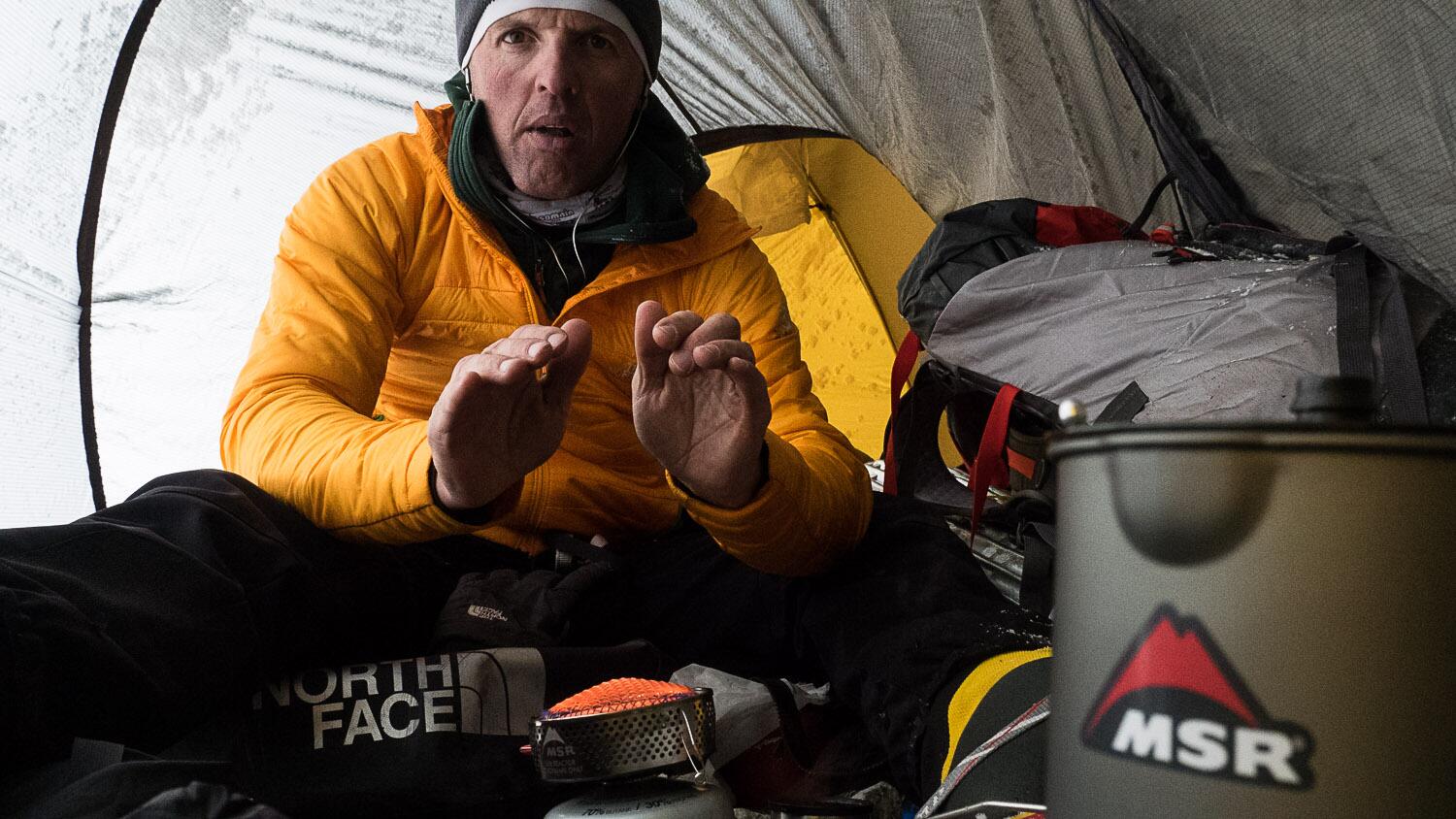 Simone Moro in C1, yesterday. Source: The North Face Expedition
Frequent updates appear in Tweet Box on right side of this weblog, on Twitter and at Facebook page.