Winter 2014 | Summit Push No 3 and Difficult Conditions on Diamir side
The blizzard has receded and after the characteristic extensive-waiting at Nanga Parbat BC, the Schell route climbers foresee a chance to reach the summit. The meteorologist predicts three days of moderate summit winds at the end of this week. The enthusiastic Tomek Mackiewicz is already on the mountain.
On Diamir side, Daniele Nardi fights the dangerous conditions that forced Ralf Dujmovits to quit his attempt prematurely. The Italian solo climber was fortunate to survive an ice avalanche few days back.
Tomek in C2
Yesterday, the Polish team reported that Tomek Mackiewicz went up from Base Camp on February 21st and is currently in C2. As per Emilio Previtali's analysis, the Polish climber needed to spend some time in solitude before joining others for the summit push.
Tomek reached ABC on Feb 21st, 15hrs after he had left the BC. The excessive snow between BC and ABC made the 'hike' difficult and time consuming. He ascended to C1 on 22nd and reached the C2 snow cave on 23rd. With a forecast of strong wind on Feb 24th, Tomek decided to spend another day in C2.
Pawel Dunaj says, "the best part is that, by forecast the wind was supposed to be 60 to 85 km/h (at 6000m) yesterday (24th). But there is not even 10 or 15 km/h wind there!! He (Tomek) said that it was such a nice WARM wind."
Pawel Dunaj himself left the BC at around sunrise, this morning. After reaching C1 (5100m), he will assess the circumstances and decide whether to continue further to C2 (6000m) or not. Jacek Teler started the climb at around 1100hrs, expecting to reach C1 today.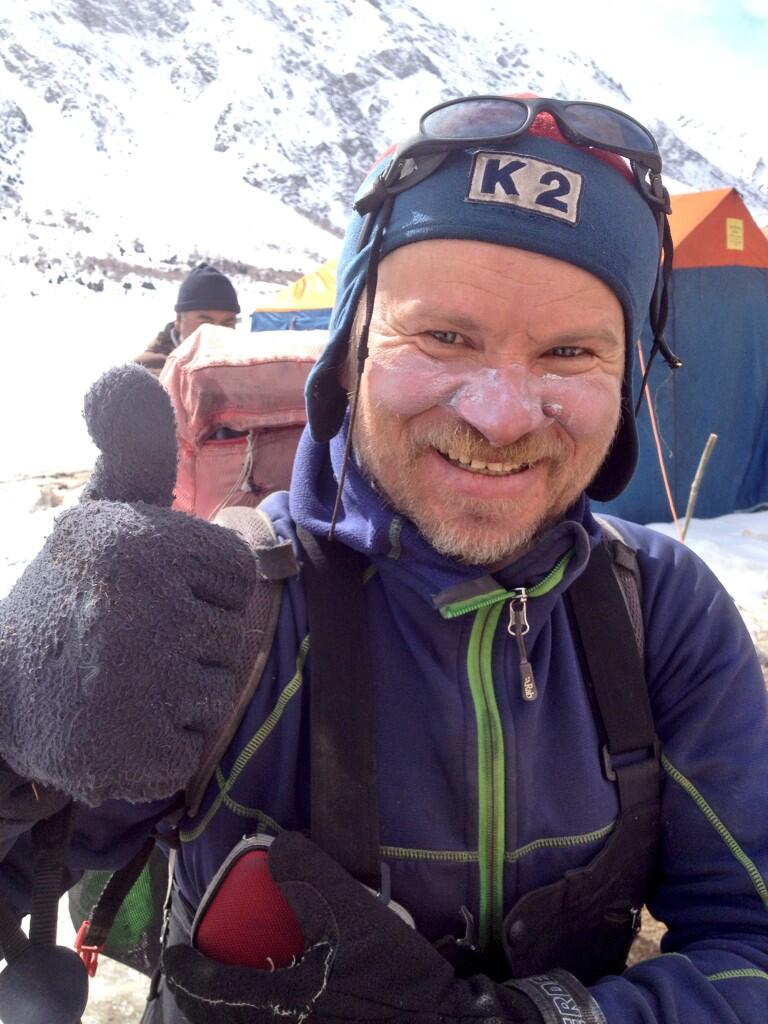 Jacek Teler went up, this noon. Photo: Emilio Previtali
Update 1 (25-Feb-14: 1700hrs Pakistan Time)
Tomek went up from C2 to C2-A (at around 6300m), today. He will spend the night there and tomorrow, depending upon conditions, will try to climb forth to C3 & above.
From spot tracker, it appears that Pawel Dunaj is in C1 (5100m), now. He and Jacek will probably be staying there, tonight.
Moro & Gottler's Plan
The North Face climbers will be going up, tomorrow.
"The window of good weather seems to be confirmed and Saturday, March 1st, could be the day for the summit. In that case, the departure could be Wednesday morning." Simone Moro wrote on FaceBook. "(This) should and would be the last attempt, and for this we want to concentrate better. But if it will be necessary and appropriate to stay for a longer time, we are also ready to do so."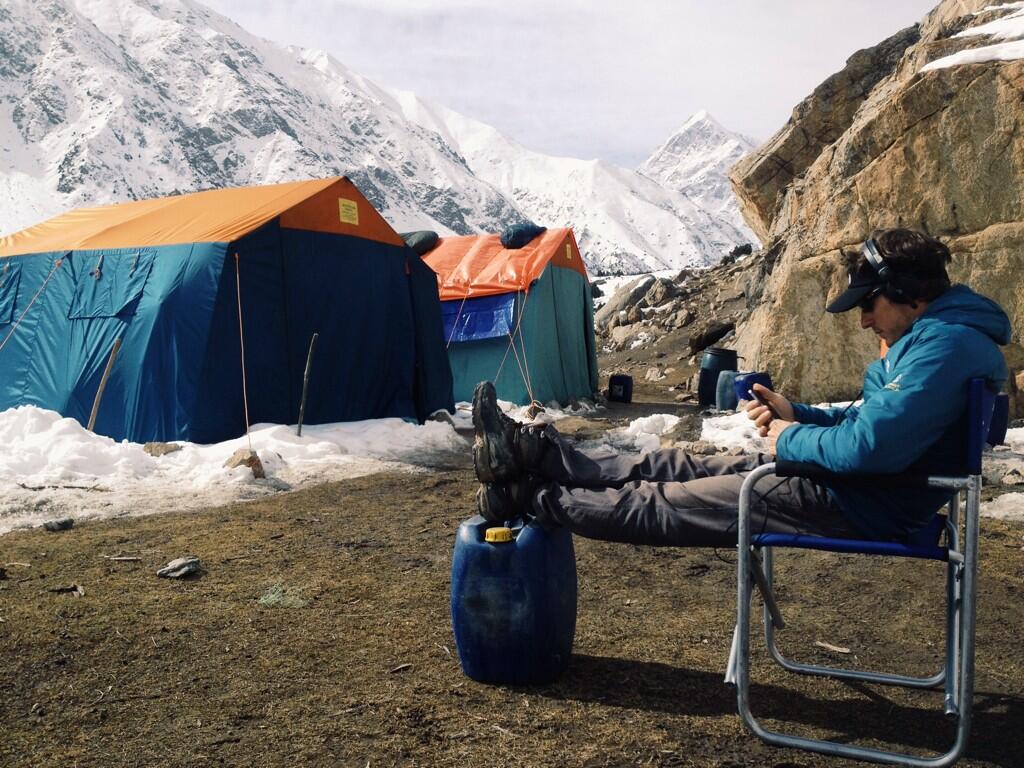 David Gottler relaxing at BC, before Summit Push # 3. Photo: Emilio Previtali
The Dangerous Diamir Face
Daniele Nardi narrowly escaped a huge ice avalanche during a reconnaissance climb towards C2 on Kinshofer route. On February 20th, Daniele rose to C1 (at 4900m from where the Kinshofer and Mummery routes diverge). His plan was to have a closer look on Mummery Rib route, which as per initial assessment seemed difficult and dangerous, from 6200m on Kinshofer route.
On 21st, he started climbing at 5:00AM. By the late morning, he was somewhere below 5450m when a huge piece of ice broke and initiated a huge avalanche. Daniele was luckily a bit to the left of slide. The intriguing details of incident can be read
here
.
Daniele returned to BC later that day, "Now a few days of rest and reflection will be important."
Picture showing avalanche site; Source