Autumn 2014 | Success on Manaslu and Cho Oyu, Bad Season on Shishapangma
It is another successful season on Manaslu and Cho Oyu, where majority of teams made it to the summit in a period of around 8 days. Contrarily, the conditions have been fatal on Shishapangma. All, but one fresh inbound team, have already left the mountain.
Shishapangma Arrivals
It has been a difficult season on Shishapangma. Double 8 team made two unsuccessful summit bids and during final push, an avalanche killed two members of the team. Kobler Partner team abandoned their expedition earlier this week. Ueli Steck was also on the way back to Kathmandu. Now, Carlos Soria has also decided to retreat due to dangerous conditions.
However, while all these teams have withdrawn from Shishapangma, few climbers are just reaching the mountain. The arriving climbers are coming after Cho Oyu, where they reached the summit last week. Danish Bo Belvedere Christensen wrote from ABC, "surprised to see that we are the only ones in the camp (ABC). Now I am going to rest a few more days; Cho Oyu is still in the body."
Facilitated by Snow Horizon Expeditions, the team consists of Nadav Ben Yeduda, Gilian Kit Wai Lee, Alice Cavallera, Alberto Pacellini, Nicola Bonaiti, Ivan Broun and Bo Belvedere Christensen.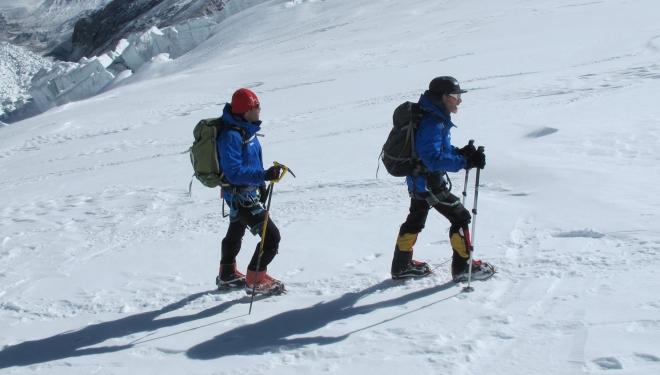 No success for Carlos Soria on Shishapangma, yet again; Source
Manaslu Summits
The good weather on Manaslu has been holding as several climbers reached the summit in past few days. Spaniards Antonio Jesús Vélez, Carlos Carvajal, Fernando Fernández-Vivancos and Pepe Saldaña reached the top on September 30th. Two members of Amical Alpin team, Martina und Stefan, also summited the same day, along with their Sherpa team.
Mountain Professionals reported that, "the entire Mountain Professionals Manaslu 2014 Expedition reached the summit at 8:20 in the morning October 1st."
American climber Alex Barber stood atop Manaslu, a couple of hours after MTN Professionals, "the pace was pretty grueling: Base to Camp 2 in 8 hours, Camp 3 to Camp 4 in 3 hours and 45 minutes, and Camp 4 to summit in just over 4 hours. I have the summit almost entirely to myself. Just one other climber up here."
On the summit Alex was joined by Italian Samuele Sentieri, who reached there at 11:09 AM on October 1st.
French climbers Franck Candelier and Purna bahadur Tamang were also alone at the peak. They summited at 11:04AM on Oct 2nd. Third member of the team Jean-François Durazzo had to retreat before reaching C4.
Summit Push on Cho Oyu
Several climbers summited Cho Oyu last week, as detailed in our previous update. Mexicans Laura González and Yuri Contreras were also amongst those who reached the top.
Another wave of summit pushes is currently underway. Chris Burke wrote on Oct 1st, "many summits have occurred in the last 48 hours. The Iranians left ABC today with a 2nd October summit in mind. Our team will leave today (1st) and Lakpa and I may consider a summit push from C2 if everything comes together, which would mean a 3rd Oct summit. Margaret and Bill want to push from C3 which means a 4th Oct summit day."
Lastly, Andrzej Bargiel who recently climbed Manaslu in record time, wanted to attempt Cho Oyu. However, China Government didn't issue him visa and the Polish climber had to fly back home.
AC Team members Da Jangbu and Danny on Cho Oyu Summit; Source
Makalu: Change in Route
British team continues acclimatization on Makalu SE Ridge, where the Sherpa have fixed the route to C2. However, the Madison Mountaineering team has decided to switch to normal wrote due to unknown reasons.
"We have decided to change our climbing route to the Northwest side of the mountain or what is the normal route via the Makalu La. This means we will move our base camp tomorrow up the Barun Glacier about 2500′ higher than our current camp, to approximately 18,500′ (5639m). We are looking forward to exploring this side of the mountain as we have not yet seen it from this angle. It's great that our climbing permit allows us to climb on both sides."
Madison Mountaineering team consists of Garrett Madison (as expedition leader), Vibeke Sefland and Lhakpa Sherpa.
You may follow frequent updates on
Twitter
and
Facebook
. Tweets also appear in sidebar of this weblog.